2022 is ending, and where would we be without a bit of laughter to get us through our year? Let's rewind and share a few of our favorite customer comments on our Tamales and some of Delia's Tamale's most viral memes! Scroll down to read these hilarious reviews.
Funniest Laugh Out Loud Comments
"Mexican Power Bars." -Carmen L Alaniz
Tamales are truly the breakfast of champions. You can always rely on Delia's to make authentic tamales to start your day off right.
"One of everything and a diet drink, please!" -Mikey Garcia
"Spicy Chicken and cheese allllll day" – Madison Yandell
We hear you, Madison, our tamales are the perfect bite for every craving. Even your holiday leftovers can get a makeover!
"A tamale with ketchup on it may be the only tamal I refuse" –Luis Aponte
Why would you say something so controversial yet so brave? If ketchup on your tamales isn't your thing, we suggest our homemade salsa verde and salsa rojo.
"Got my 20 dozen ordered, hope I have enough!" -Anne N. Coe
That might be cutting it close Anne. Might we suggest another couple dozen? Depending on how big of a holiday party you may be planning, we think 20 dozen will get you started!
"I'd Assault someone for that plate [tamales]." -Jennifer Miller
Don't worry Jennifer, tamales are available year-round at Delia's Tamales! Don't swing your fists, swing by one of our locations for a couple dozen to get your tamales fix! 
Viral Memes of 2022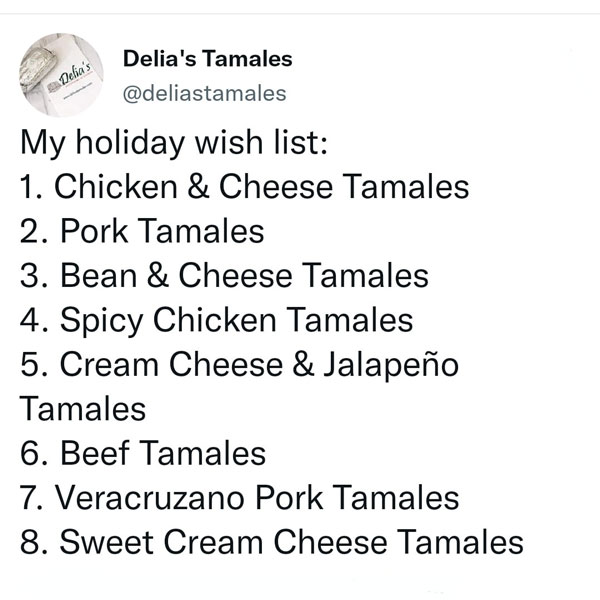 December 7 My Holiday Wish List
Santa has your wish list, but the real question is, which of our tamales are on your top-three list?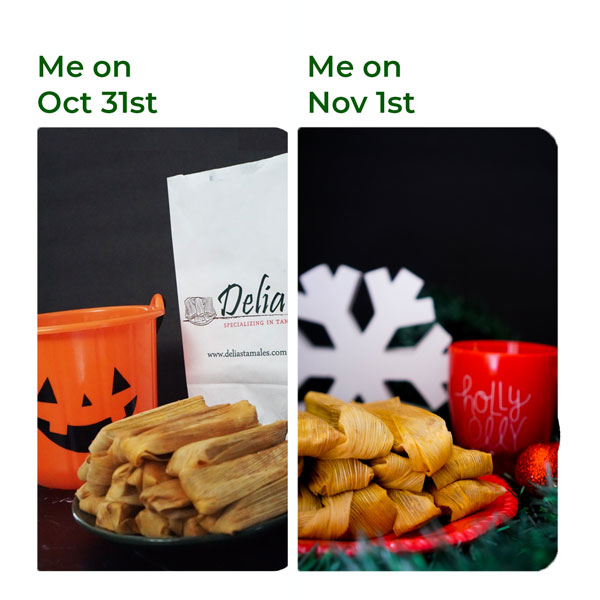 October 30: Me on October 31 VS. Me on November 1 
Once the colder hits, all we can think about is staying warm and enjoying mouthwatering tamales. Really every season is tamale season.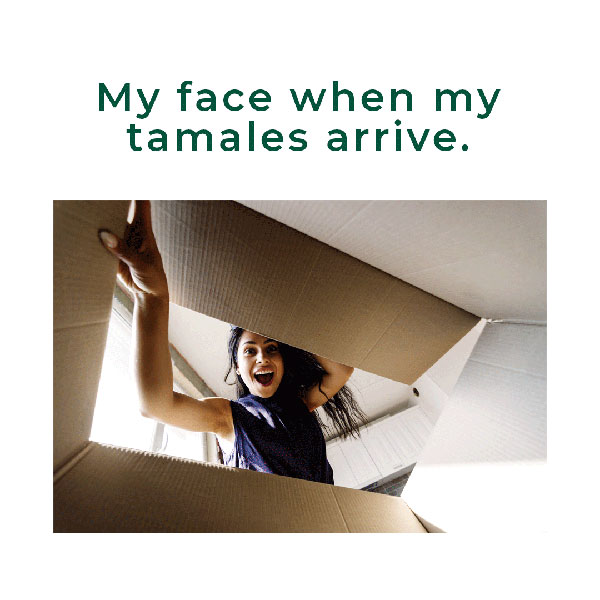 October 21: My face when my tamales arrive meme
Did you know we offer nationwide shipping? I'm sure you made that exact face learning you could get delicious tamales shipped to your door no matter where you live in the
United States. Order here.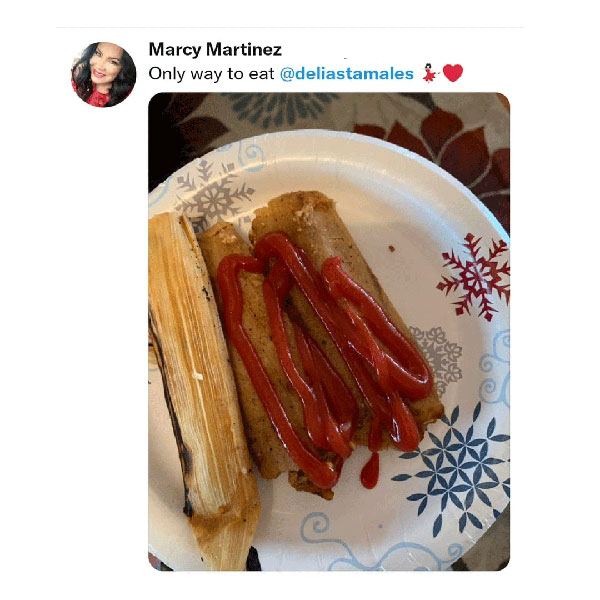 October 19: The only way I eat tamales
This meme caused quite a stir-up, with people debating salsas vs. ketchup on their tamales. Enjoy it your way, no need to fight!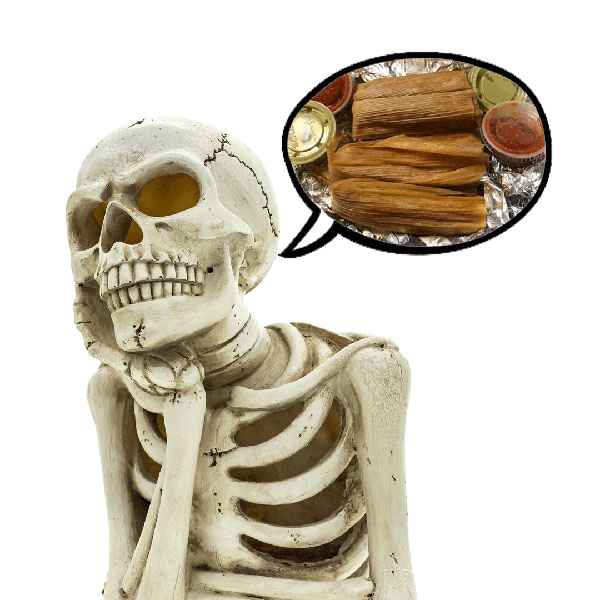 October 14: Me Daydreaming About Lunch
Who has yet to find themselves getting lost in thought about Delia's Tamales?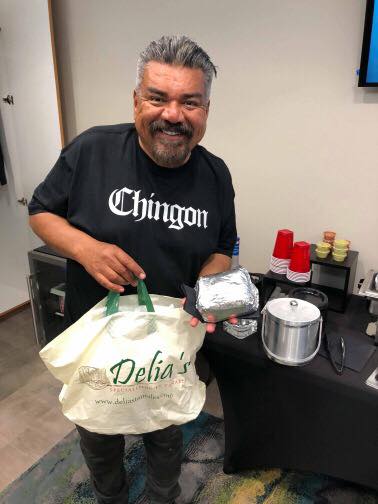 April 3: "That time George Lopez enjoyed some of our tamales."
George Lopez, the Californian comedian, and actor, enjoyed some of our tamales. Thank you for your support!
November 18- "I only ordered a couple of tamales this year."
You don't need to kid yourself. Remember, Santa is watching. I think Anne could relate to this post. A dozen for the whole family sounds about right.
Our tamales fix any craving:
Regular
● Pork
● Chicken
● Beef
● Bean
● Spicy Chicken
● Spicy Pork
● Verracruzano
Specialty
● Bean & Cheese
● Bean, Cheese, & Jalapeño
 Chicken & Cheese
● Chicken, Cheese cooked in Green Sauce
● Cream Cheese & Jalapeño
● Sweet Cream Cheese Tamales
Contact Delia's for Your Next Order
Place your next order in-store with Delia's today. Comment, share, and retweet your funniest tamales comments on Facebook, Twitter, or Instagram for a chance to join in on the fun on next year's list.