With another year of service coming to an end, we wanted to take the time to appreciate our fellow Delia's Tamales fans. We truly could not have done it without you. We are glad we were able to share delicious memories with you. That's why we've decided to put together 10 of the most fan-worthy reviews of the year to acknowledge our amazing customers.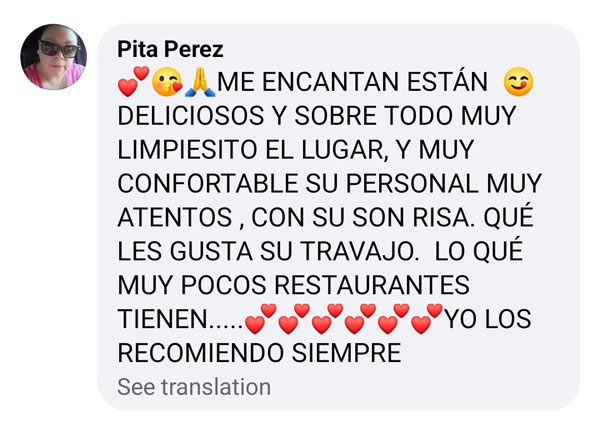 Thank you Pita! We value our patrons and want to give them the best possible customer experience possible. We prioritize great service and cleanliness, to guarantee both satisfaction and safety. The difference between us and fast food chains is that we treat our employees like family and give them the respect and patience they deserve. You can definitely taste the love in all the tamales we make!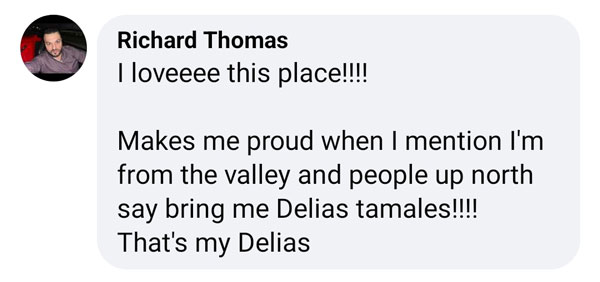 This means the world, we are thrilled you feel that as deeply for us as we do for you. We've all definitely been designated tamale picker-upper at least once in our lives. The Valley roots truly run deep. It's all about that 956!

We take pride in our swift deliveries, and ensure all our tamales are still frozen upon arrival. We care about the well-being of our customers and guarantee they are still safe to consume even after their multiple state line journey. That's right! We deliver nationwide shipping, so that everyone across the United States can enjoy some Delia's.

We have been in the tamales business for nearly 30 years. We humbly thank you for making us a big part of your family's traditions and sharing many great memories with us. With the love and support the Rio Grande Valley has given us we were able to make 6 locations across the RGV and have even been able to expand our market with one location in San Antonio. It's truly been a remarkable journey to grow with ya''ll.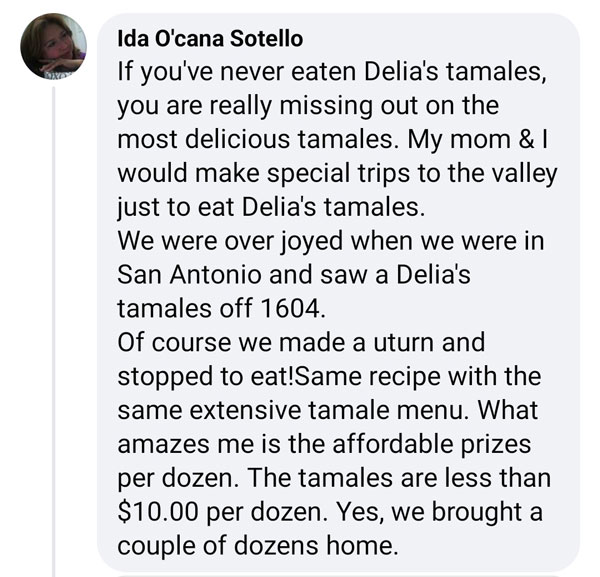 We are glad we could be a part of wonderful memories for you and your mother. Hope your visits were flavorsome. We pride ourselves in the many tamales options we have available.
Regular
Pork
Chicken
Beef
Bean
Spicy Chicken
Spicy Pork
Verracruzano
Specialty
Bean & Cheese
Bean, Cheese, & Jalapeño
Chicken & Cheese
Chicken, Cheese, cooked in Green Sauce
Cream Cheese & Jalapeño
Sweet Cream Cheese Tamales
We have something for everyone to love! While you're picking up, you can't go without our rojo or verde salsas. View more of our menu items here.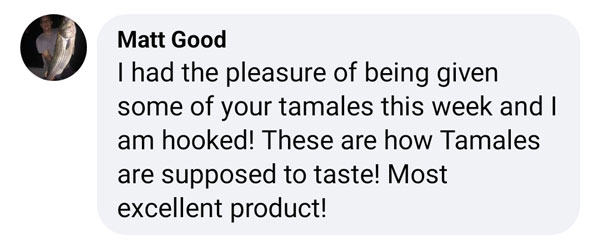 Once you try Delia's, you never go back! Happy you had a great first impression of us, Matt. We hope to see you soon.

We definitely understand that. With the highest quality ingredients, perfect masa to meat ratio, and the love you can taste in every bite, we are surprised you made it past the parking lot with any at all. Maybe try two dozen? One for the road and one to enjoy at home!

Shipping our scrumptious tamales to loved ones is a great way to show that you care. We are glad your daughter loves our tamales and we were able to make her day a little brighter. Delia's Tamales are truly the perfect gift for any occasion!

Pleased to find that you enjoyed our food and services. -and glad you are thinking of us! Hope you and all our customers' holidays were filled with many blessings.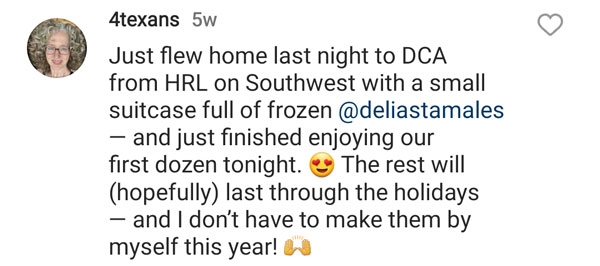 The holidays can be stressful. Thank you Carrie for relying on us, to feed your family a holiday dinner. Did you know, you can freeze them and keep them in the freezer for up to 6 months? They are guaranteed fresh to eat for up to half a year, although we know your leftovers won't last that long!
Reach Out to Us at Delia's Tamales
Thank you for making this all possible at Delia's Tamales. Here is to another year of delightful tamales. Share on Facebook, Twitter, or Instagram how your positive customer experience, and maybe you too can be in the top 10 fan line-up for 2023! Call or click to place your next order today.