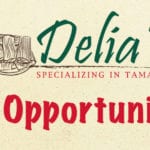 Reports to: Cashier Lead > Manager > Supervisor
Position Summary:
A cashier's primary role is to assist customers in the in-store checkout process.  The cashier is responsible for ringing up sales, bagging items, verifying prices, collecting payments, giving appropriate change, and processing debit and credit card transactions.
Education/Qualifications:
Candidate may be required to have a high school diploma or GED
Bilingual: English/Spanish preferred but not required
Must be able to pass in-house training and orientation sessions
Job Knowledge/Experience:
Previous experience in food services is preferred but not required
Must be able to have basic math skills and computer knowledge
Must be able to work a flexible schedule including weekends, evenings, and holidays.
Must have good telephone etiquette
Strong customer service skills are a must
Strong attention to detail
Must be able to multi-task based on customer flow and seasonal demands
Position Responsibilities:
Must be able to greet customers, take their orders and deliver orders to customers.
Responsible for processing credit card payments, accepting cash payments, and accounting for sales utilizing a POS (Point of Sale) system for transactions.
Ensure all orders are delivered to the customers on time
Will be required to count money daily in the cash drawer at the beginning of each work shift and ensure that an audit is performed at the end of the shift to account for the till.
Resolves customer complaints, guide them and provides relevant information.
Responsible for learning menu items and pricing.
When not helping customers employees are expected to clean and arrange eating and service areas.
Will perform other duties as assigned by management.
Customer Service:
Provide excellent customer service and communication skills to all of Delia's customers.
AMERICANS WITH DISABILITIES ACT (ADA):
A. The following table provides physical requirements that will be associated with, but not limited to, this position:        
| | | | |
| --- | --- | --- | --- |
| Light/moderate lifting up to 50 lbs. from the floor to waist height. | Yes | Kneeling | Yes |
| Must be able to assist other employees with lifting more than 50 lbs. | Yes | Walking | Yes |
| Light/moderate carrying up to 50 lbs. | Yes | Standing for long periods of up to 8-10 hours or longer | Yes |
| Straight pulling | Yes | Sitting | Yes |
| Pulling hand over hand | Yes | Pushing | Yes |
| Repeated bending | Yes | Stooping/Bending | Yes |
| Reaching above shoulder | Yes | Climbing Stairs | No |
| Simple grasping | Yes | Climbing Ladders | Yes |
| Dual simultaneous grasping | Yes | Depth Perceptions needed | Yes |
| Ability to see | Yes | Identify Colors | Yes |
| Operating restaurant equipment | Yes | Twisting | Yes |
| Operating mechanical equipment | Yes | Crawling | No |
| Ability to read and write | Yes | Ability to Count | Yes |
| Ability to hear verbal communication without aid | Yes | Operating Personal Vehicle | Yes |
| Ability to comprehend written/verbal communication | Yes | | |
B. Working Conditions: The individual spends over 95% of his/her time in an air-conditioned environment with varying exposures to noise. There is protection from weather conditions but not necessarily from temperature changes.