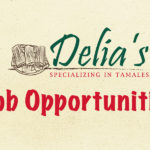 Delia's Tamales
Reports to: Kitchen Lead
Duties and Responsibilities:
Ensures food prep is being conducted following proper safety and sanitation standards.
Transfer food and supplies in and out of the kitchen as needed.
Ensure all areas of the kitchen, food prep, and food storage areas are clean and properly sanitized.
Ensure all items for online orders are prepared and packaged correctly for shipping or pick-up.
Pull boxes in and out of the freezer as needed
Other tasks as directed by management.
Physical Requirements:
Must be able to remain standing for most of their shift.
Must be able to lift up to 35 lbs. regularly.
Qualifications:
A Texas food handler certificate is mandatory for all employees who prepare, store or serve food.
Experience in Food Service a plus
Must be able to work a flexible schedule including weekends, evenings and holidays.
Must have reliable transportation.