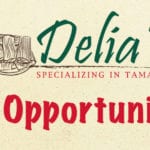 Reports to: Kitchen Lead > Manager > Supervisor
Position Summary:
A Kitchen Prep/Cook is responsible for setting up kitchen workstations and performing basic cooking duties. Their duties include preparation of meals, ingredients, organizing and labeling food items in the refrigerator/freezers, performing tasks like chopping and mixing ingredients and sanitizing their work station.
Education/Qualifications:
Candidate may be required to have a high school diploma or GED
Must be able to work a flexible schedule including weekends, evening and holidays
Bilingual: English/Spanish preferred but not required
Must be able to pass in-house training and orientation sessions
Job Knowledge/Experience:
Previous food service or kitchen experience preferred but not required
Basic cooking and chopping knowledge
Works well as part of a team
Ability to handle being near cooking ovens with high heat
Ability to follow instructions and complete tasks in a timely manner
Position Responsibilities:
Must set up and sanitize kitchen work area and kitchen equipment.
Prepare ingredients to be used in entrees and sauces.
Must be able to wash, peel, and cut vegetables.
Mix ingredients, stew vegetables and prep tamales on trays.
Wash and chop produce and other food handling.
Set up and wrap tamales and sort by flavor and type.
Assist with online orders by preparing and packaging tamales correctly for shipping.
Label, stock, and transfer all wrapped tamales in their proper place and ensure they are easily accessible.
Wash trays, cooking equipment, clean floors, clean bathrooms, sanitize countertops, sanitize cutting boards, and maintain all areas to health code standards.
Maintain a clean and organized kitchen by making sure all waste is removed and the surfaces are sanitized at the end of the work shift and/or day.
Comply with food sanitation and guidelines and safety rules.
Other duties as assigned.
Customer Service:
Provide excellent service to all Delia's employees and customers.
AMERICANS WITH DISABILITIES ACT (ADA):
A. The following table provides physical requirements that will be associated with, but not limited to, this position:      
| | | | |
| --- | --- | --- | --- |
| Light/moderate lifting up to 50 lbs. from the floor to waist height. | Yes | Kneeling | Yes |
| Must be able to assist other employees with lifting more than 50 lbs. | Yes | Walking | Yes |
| Light/moderate carrying up to 50 lbs. | Yes | Standing for long periods of up to 8-10 hours or longer | Yes |
| Straight pulling | Yes | Sitting | Yes |
| Pulling hand over hand | Yes | Pushing | Yes |
| Repeated bending | Yes | Stooping/Bending | Yes |
| Reaching above shoulder | Yes | Climbing Stairs | No |
| Simple grasping | Yes | Climbing Ladders | Yes |
| Dual simultaneous grasping | Yes | Depth Perceptions needed | Yes |
| Ability to see | Yes | Identify Colors | Yes |
| Operating restaurant equipment | Yes | Twisting | Yes |
| Operating mechanical equipment | Yes | Crawling | No |
| Ability to read and write | Yes | Ability to Count | Yes |
| Ability to hear verbal communication without aid | Yes | Operating Personal Vehicle | Yes |
| Ability to comprehend written/verbal communication | Yes | | |
B. Working Conditions: The individual spends over 95% of his/her time in combined working environment between an air-conditioned, cold and heated area depending on their work station with varying exposures to noise. There is protection from weather conditions but not necessarily from temperature changes.